Welcome back to Auction Finds of the Week!  This week I will be discussing ways to adorn the blank walls of your space with interesting, original artwork as well as suggesting ceramic plates as another option in which to decorate that empty expanse.  Above is a photograph of a wall in my living room (or the drawing room as I like to call it ) hung in the French Salon style with various types of original artwork- an oil on canvas, 2 Japanese woodblock prints, various engravings from the 18th century, early 19th century drawings and even 2 framed late 19th century ceramic tiles.  The large early 20th century oil painting at the top of the wall is from my grandmother and while not terribly valuable monetarily, its connection to her makes it meaningful to me and I have always liked its tense and taut psychological scene of a family at the dinner table.  Always remember to incorporate a family piece if you have one even when it doesn't exactly "fit", the meaning you and your family have generated with it will make it work.
My wall grouping illustrates several things to keep in mind when decorating the walls of your space.  First, it is fairly easy to find original artwork at good prices, online, at auction or at your local antique store.  Also, there are an infinite number of picture making mediums that you can chose from not just oil paintings which could be more expense that are at good prices- engravings, etchings, lithographs, silkscreens, woodblocks  drawings, watercolors, pastels and so on. And the look of your wall has more interest, texture and dynamism when you concoct various mediums on it or even add something unusual like framed ceramic tiles or plates and platters.
The above photograph depicts  wall in my bedroom filled with Aesthetic Movement black and brown transferware plates and platters.  Using ceramic plates to decorate a blank space can create a dynamic look relatively inexpensively.  And grouping a collection together always gives it more presence and importance.
Currently, on eBay I have several consigned artwork lots mainly in watercolor.  The highlight is awatercolor of a winter scene by the listed and known French artist Roland Dubuc (1924-1998).  The work is well-framed and matted and nicely conveys a bleak, cold winter day.  Also available are a set of 3 framed 17th century colored engravings by Giovanni Battista Falda of Rome- 2 depicting Roman palazzo and the third showing a Roman fountain.  They are all nicely presented and matted in gilt frames.  A set of 4 late 18th century French engravings framed as a pair with gorgeous red mattes illustrate scenes from the Greek Islands. An large 20th century abstract landscape in watercolor by an unknown artist has brilliant color and was clearly rendered by someone with skill and passion.  All of these items are well-priced and would be a welcome decorative addition to any space.  Now, onto the Auction Finds of the Week!
This week's first auction find, lot 5 a color screenprint entitled Abstract Owl by Karl Appel (Dutch, 1921-2006) will be auctioned off at Skinner in Boston 23 January 2015 with a pre-sale estimate of $500-700.  The piece measures 30" x 19.625 and is a vibrant mix of areas of strong color- oranges, blues, yellows and greens- framed in black against a green ground.  The colors and their shapes coalesce into the figure of an owl.  A strong, dynamic image, the Appel Owl would look great in a variety of settings.  I would love to see it mixed with more traditional pictures to create a wall with a good deal of texture.
The second discovery this week also being auctioned off at Skinner in Boston is lot 22, a color lithograph by Bernard Buffet (French, 1928-1999) entitled Tournesols et Melon dated 1955 with pre-sale estimate of $1,500-2,000.  Tournesols is the French word for sunflowers.  This great mid-century modern print from an edition of 125 measures 19" x 25.75" and is rendered in oranges and yellows depicting a vase full of sunflowers next to a slice of melon on a cross-hatched ground.  This piece would look fabulous in a room with Danish mid-century furniture.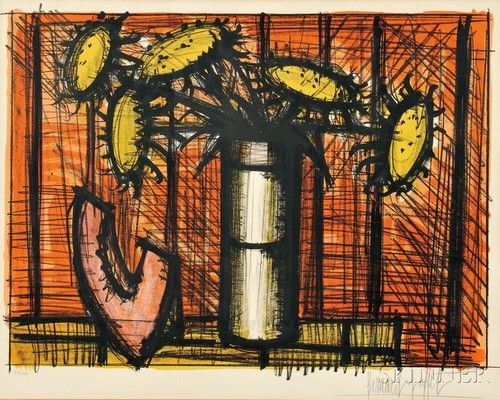 Next is an abstract color lithograph by Sonia Delauney-Terk (Ukrainian, 1885-1979), lot 42, also at Skinner in Boston with a pre-sale estimate of $250-300.  The print is untitled and is from an edition of 25 measuring 24.75" x 17".  It shows a series of concentric circles in reds, blues, greens, greys, and a touch of black set off by blank areas showing the paper the lithograph is printed on which creates an image of process and construction.  This work is  a great size and visually appealing by a well-known artist.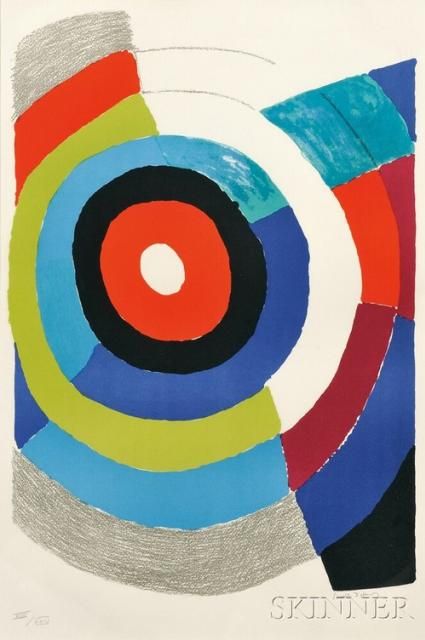 The next two finds are more visually traditional and older works of art than the first three from above.  A mixture  of periods on your wall, just like the concoction of mediums on a blank wall can create a space with strong texture and spirit.  These last two finds will be auctioned at Freeman's in Philadelphia on 27 January 2015.
The first treasure from Freeman's is an 18th century French charcoal drawing of two boys resting attributed to the circle of the famous Rococo artist Francois Boucher (French, 1703-1770).  I myself am always dying for a French 18th century moment in my home and this sweet little drawing measuring only 5.625" x 5.25" would certainly satisfy that need.  There is something fresh an open about this work, probably quickly rendered, of two smiling, young boys taking a rest from their play.  This piece, lot 25, has an estimate of $1,000-1,500.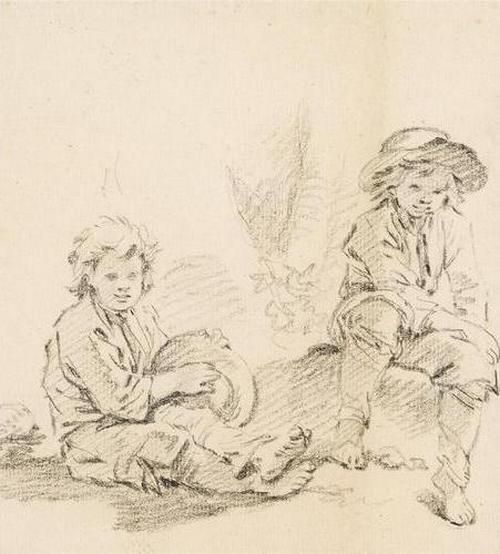 The last find this week is lot 1 a series of 6 etchings of various scenes in Rome from the 1760's and 1770's by the quite renown Giovanni Battista Piranesi (Italian, 1720-1778) with a pre-sale estimate of $2,000-3,000.  I have chosen 2 to illustrate here:  A View of the Colosseum measuring 15.875" x 23.563" and dated 1756 and A View of the Flavio Amphitheater measuring 17.25" x 27.25" and dated 1766.  I would love to see these 6 prints all hung together in sleek simple frames, filling a wall in a room was a decidedly more modern dynamic in terms of furnishings.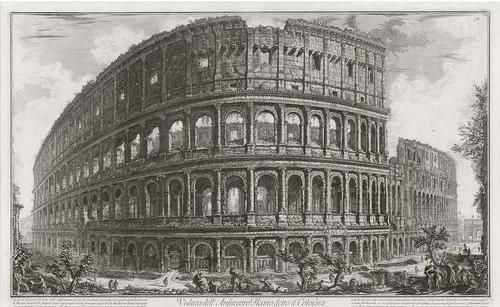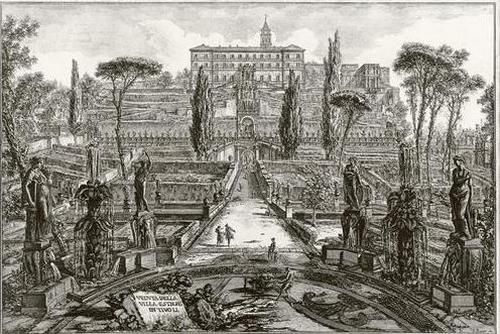 Walls are what make a room.  Give your walls a lot of texture and visual interest by finding original artwork at your price point that you find captivating, not just decorative and hang the pieces in thoughtful and planned out groupings that catch the eye.  Hang different sizes pieces with different frames in an asymmetrical Salon style as I have done in my living room.  Or unite different pieces in different media using the same sleek, unobtrusive frame and hang the grouping in a symmetrical and geometric fashion.  Either direction will yield a pleasing result for the eye.  Go for bold displays of color or chose works that are only black and white.  There are a myriad of choices with which to adorn your walls.  Walls are what make a room.  Just don't leave them blank!
I hope you have enjoyed this Auction Finds of Week.  If you are looks for some good, original and well-priced artwork please take a look at the items I currently have listed on eBay.  Or if I can help you find a particular work or works to embellish your wall, please contact me atinfo@theantiqueflaneur.com and visit my website to see the services I offer at www.theantiqueflaneur.com. Or if you are looking for any kind of antique or vintage piece from the 1750's to the 1950's and beyond, I can assist you.  I have multiple sources across the country and in Europe to find you that unique piece.
I am now able to offer insurance appraisals for the decorative arts especially silver and ceramics.  Please contact me if you need an appraisal of items to schedule them on your insurance.  If you need an estate or donation appraisal for tax purposes, I can bring in another appraiser who will work with me to complete that for you.  I am in New York City, but have worked with clients in New Jersey and Connecticut as well.  In addition, if you are interested in selling a piece(s), I can provide you with a Professional Opinion of Value on the object(s) to guide you in your selling (and I can sell it for you too) or perhaps you are just curious about the value of your antique or vintage item.
Until next time,
Kelly T Keating