From October 16th  to October 28th Christie's is holding an online auction of Chinese Export silver consisting of 88 lots.  Chinese Export silver is perhaps the fastest growing area in the overall silver auction market.  It will be interesting to see what prices are fetched at this exclusive sale.  Just as Chinese makers produced pottery for a European consumer since the 18th century, silver makers were also employed by Westerners to create objects in precious metal.  The confluence often produced unique objects that often blend European forms with Chinese decoration.  I hope you enjoy the following objects as much as I do and that it will inspire you to think about silver in a new way.
This week's first find, lot 3, is a Chinese Export silver pitcher with the mark of Hoaching of Canton and made circa 1825-1870.  It has an estimate of $3,000-5,000.  The pitcher is a cylindrical shape with a tuck in foot.  The body has an overall decoration of bamboo branches and leaves against a matte ground which creates a lace-like effect appearing both strong and delicate at the same time.  The handle of the pitcher is modeled as a piece of bamboo as well.  The pitcher stands 8.25" tall and has a vacant cartouche underneath the spout.  What a gorgeous piece!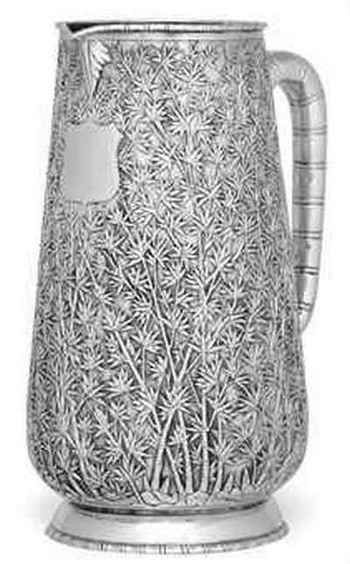 This week's next discovery, lot 14, is a Chinese Export silver centerpiece with the mark of Tuck Chang of Shanghai dating to 1870-1920.  It has an estimate of $4,000-6,000. Standing 17.5" tall, the centerpiece features a beautifully rendered crane which supports 4 vases that are decorated with lovely chrysanthemum flowers against a matte ground.  The whole stands on a wood stand.  The detail of this piece is simply extraordinary.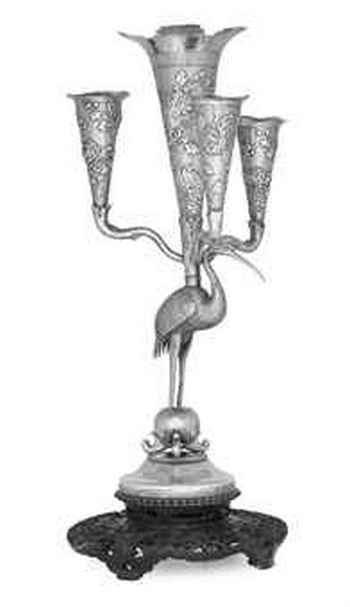 The third treasure this week are 2 related Chinese Export silver round picture frames,lot  71, one made by Cum Wo of Hong Kong circa 1840-1910 and the other made by Luen Wo of Shanghai circa 1880-1925.  It would be interesting to investigate these frames and other objects to see how perhaps certain forms and motifs persisted in Chinese Export silver over long periods of time either because of the Chinese maker, the European consumer or both.   The 2 frames have an estimate of $2,500-3,500.  Each frame is 12" in diameter.  They are both decorated with chrysanthemums.  It would be lovely to fill these frames with some distinguished ancestors.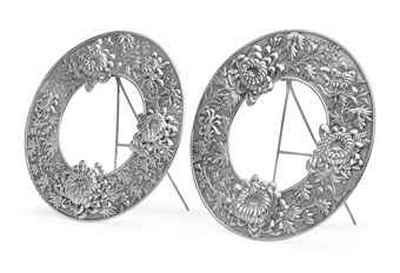 The last find this week is a Chinese Export 3 piece tea set.  How could one talk about Chinese Export silver and not show an object used for tea although decidedly for a Western drinker?  Lot 44 has an estimate of $2,000-3,000.  The tea set was made by Luen Wo of Shanghai circa 1880-1925.  The teapot, cream jug and sugar bowl are each inventively shaped as a tree trunk section with applied prunus blossoms. The handle, spout and finial are modeled as twigs.  The cream jug and sugar bowl have the nicely added touch of a gilt interior.  This tea set is simply charming.  The trunk and twig motif give it a touch of whimsy and the prunus blossoms add a feeling of elegance.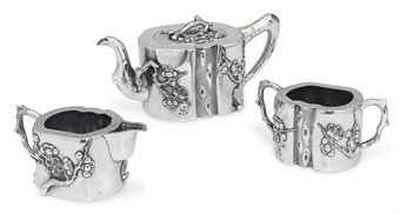 I hope you enjoyed this small foray into Chinese Export silver and have become as enamored with its beauty as I have.  Also, all of the pieces in the auction not just the ones discussed here have strong estimates.  It will be interesting to see how the sale proceeds and if a majority of lots exceed their higher valuation.
If you are looking for a piece of Chinese Export silver or another antique or vintage. object, please contact me through my website and I would be happy to help. Also, if you have items you wish to sell, I provide that service as well.  And finally if you are on Facebook, please like my business page where I post items of antique interest and additionally antiques for sale.
Until next time,
Kelly T Keating
www.theantiqueflaneur.com