Welcome back to Auction Finds of the Week on Antique Desire!  This week will highlight 4 furniture lots and one fab metalwork lot being sold at the Modern Design auction at Skinner in Boston on December 6, 2014.  The sale not only has numerous lots of modern design furniture, but also glass, ceramic and metalwork items.  All of the lots I chose for this week have very affordable estimates except one which is a piece by a premier 20th century American furniture designer and maker.  Adding one new and interesting piece to a room can change its whole dynamic from an accessory to an item of furniture.  And as I have said here before, combining new items with vintage and antique pieces gives a room a great deal of character, warmth and interest.
This week's first find, lot 9,  is a Charles Limbert (1854-1923) Arts and Crafts oak desk circa 1912 with an estimate of $600-800.  Limbert was the founder of the Limbert Furniture Company in Michigan in 1902.  The desk has a rectangular top just shy of 4 feet wide over two drawers with corbel supports under which is  a lower median shelf.  The piece demonstrates the hallmarks of the Arts & Crafts style in its simplicity of design as well as the exposed tendons which visually indicate how it was constructed.  This piece is slightly worn, but with some gentle restoration it would function quite well as a desk in a small room.  Can't you just see a computer on top of it?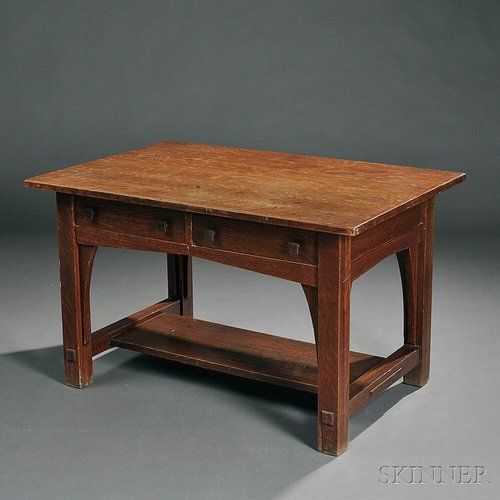 The next discovery this week is lot 168, a Seville Art Metal Studios gilt metal magazine rack from 1928 with an estimate of $500-700.  Seville Art Metal Studios was located in Cleveland, Ohio and produced various pieces of metalwork during the Art Deco period.  Each side of the magazine rack whimsically features a dancing female nude playing a flute in a swirled oval frame.  I would not use this piece for its original function to hold magazines, but treat it as a piece of sculpture, an Art Deco artifact, to be displayed on a sideboard or a deep mantelpiece.
Lot 233 is a 1970's rosewood armchair with an upholstered seat from Denmark designed by Niels Koefoed with an estimate of $200-300.  The chair has at first a traditional appearance, but this look is underlined and countered by its sleek, sculpted look.  Particularly appealing is how the arms of the chair continue past the seat and are attached to the stretchers.  The stretcher actually goes through the arm piece creating a dynamic visual look.  Here is a single piece of furniture, relatively inexpensive, that could transform a room with its interesting shape and construction.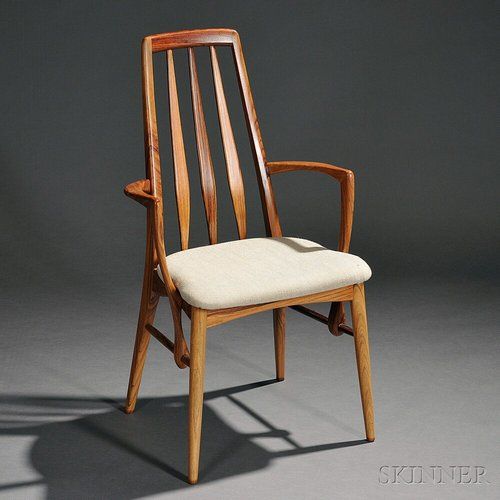 The next find this week is lot 299, an American black walnut hanging cabinet from 1977, by the renown George Nakashima (1905-1990) with an estimate of $10,000-15,000.  The cabinet consists of a rectangular top with a sap streak and free form edge over a pair of sliding doors with grillwork over Pandaus grass which reveals an open compartment.  In this piece, Nakashima turns the traditional hanging cabinet on its head making it horizontal instead of vertical which gives the piece a superb visual dynamic as it appears to float in space. Other hallmarks of Nakashima's style are here as well most notably allowing the wood to express its inherent characteristics:  the top's free form edge and the incorporation of the sap streak.  This hanging cabinet is really a wonderful piece full of presence and soul.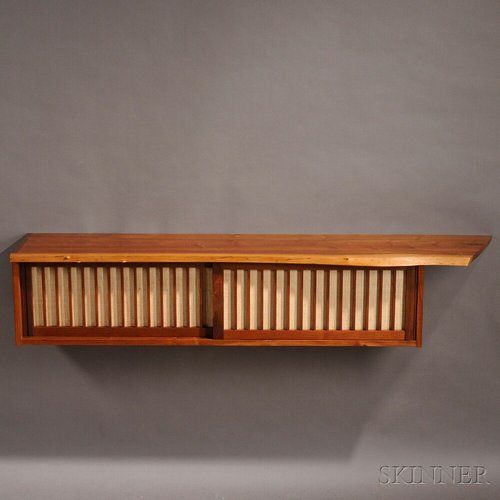 This week's last discovery is lot 354, a T H Robsjohns-Gibbings walnut coffee table circa 1960's with an estimate of $600-800.  Robsjohns-Gibbings (1905-1976) was a British-born architect and furniture designer who combined classical elements of Ancient Greece and Art Deco design.  The coffee table consist of a rectangular top with a crossbanding over a medial shelf.  The whole is raised on four saber legs.  This piece clearly expresses his design aesthetic. The saber legs of Ancient Greece are injected into an overall modern design creating a striking effect.  At only 30" x 18" this coffee table could work in a variety of spaces and I would have it in my own living room toute suite.  Like the Koefoed chair, this one piece of furniture could transform a room.
If you are looking for a single item from traditional to modern, antique to vintage, to dramatically change your own space, please visit my website and contact me at info@theantiqueflaneur.com.  Also, if you need help selling your antique or vintage items, please think about consigning your items with me. Finally, I am also available for insurance or informational appraisals of your decorative arts objects particularly silver and English ceramics which are my specialties.  If you need an estate or donation appraisal for the IRS, I can refer you to a qualified appraiser to help you.
Happy Hanukkah!  Happy Christmas!  Happy New Year!
Until next time,
Kelly T Keating